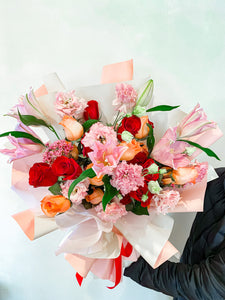 The perfect bouquet that says, "I Love You".
This bouquet will be wrapped with our signature bouquet wrap.
*** If you would like to change any of the colors in the bouquet , please comment in the "NOTES" section in checkout. We will try our best to accommodate special requests, but please keep in mind that there will be no guarantees.***
***We suggest that you always input a delivery date one day before the intended delivery date to avoid any disappointments. Our hand delivery is only provided in San Francisco Bay Area. Cut off time for local same-day delivery is 12 Noon.